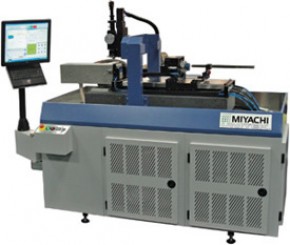 LASER CUTTING SYSTEMS
"Gas Assist" fine laser cutting, also known as "fusion cutting" is achieved by delivering laser energy to the cut zone assisted by a coaxial gas flow of either oxygen (O2), air, or an inert gas, depending on the materials being laser cut, and the cut requirements.

Gas assist fiber laser cutting technology is ideal for precision cutting of stainless steels (300 and 400 series, 17-4, 17-7); MP35N (cobalt-chrome steel alloy); and Nitinol as used in the medical device and battery industries. This fine laser cutting method can be used for both on and off-axis cutting.
For further information, as well as a comparison with other popular cutting technologies see our Precision Laser Cutting Options paper.
Miyachi Unitek's proprietary position-based laser firing control algorithm enables precise pulse overlap to be maintained during multiple linear and rotary axes of coordinated motion. The laser source can be selected based on specific application and material requirements.

Features:
High speed linear stages
2, 3, 4 or 5 axes
User friendly interface
Wet or dry operation
Fiber laser source

Manufacturer:Amada Miyachi